Means of payment
Bank cards accepted: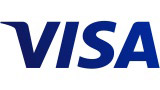 ---
Payment by corporate badge:
How to recharge your badge online?
Either from your smartphone and a QR code app, scan the opposite QR code on this page or from your computer by clicking this link:
http://tcpos.novae-restauration.ch:30356/webaccount/
Enter your badge number
Enter your PIN code
(When you use it for the first time, your PIN code will be the same as the number of your badge. We recommend you change it immediately: simply click on "manage your preferences".)
Select the amount to load onto your card (30, 50, 100 or 200 Swiss francs)
Enter your credit card details
Recharging your badge can also be done at the checkout. However and in order to facilitate the client flow during the service, a minimum of 100 Swiss francs is only accepted when recharging.